The Village Green Christmas Tree, which has now become an annual event, has extra significance in this year of the pandemic. The organisers waited until just after the last Lock-down had ended before getting to work on the Village Green. The tree went up in a prominent place on the Village Green without a hitch.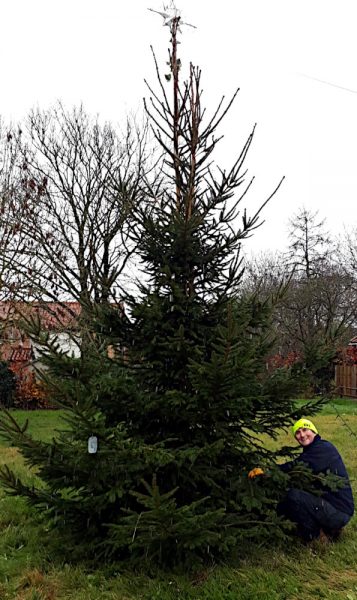 Organisers usually ask village residents to make decorations for the Tuttington Tree. This year the theme is the NHS. Please come along (observing the usual social distancing rules, of course) and put your decorations on the tree.
Please also think about making a donation of a quid which will go towards charities supporting NHS activities. The collection box is on Colin's gate on the north side of the Village Green.
The tree was organised by the Tuttington Together Team who managed to negotiate a discount from a local Christmas tree supplier in Suffield.
And while we are all wondering what sort of Christmas we will be having this year, at least the Christmas lights will be on in Tuttington to give us some cheer in difficult times.
Many thanks go to David, Jackie, Jane, Colin, Nick, Donna, Bob, Jane, Ruth and everybody else who has helped to make things happen.