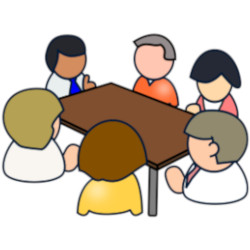 The first Parish Council meeting to occur after the recent Local Council Elections was held in the Reading Room at Burgh on May 15th 2019. All of the Parish Councillors had been elected without contest on May 2nd 2019.
Ian Kinghorn and Colin Piggott were re-elected as Chairman and Vice Chairman of the Burgh and Tuttington Parish Council, respectively. The other Parish Councillors are Chrissie McVeigh, Jeremy Hickling, Mary Forest-Hill, Jan Lodge and Simon Covey. The Parish Clerk is Joe Winterbourne.
One of the items announced at the meeting was the successful bid for Parish Partnership Scheme funds awarded by Norfolk County Council Highways for road projects within the parish. The award was for two projects with £900 to go towards kerb improvements in Burgh and £7000 split between Burgh and Tuttington for village gates schemes to help control speeding traffic. Cllrs. Jeremy Hickling and Chrissie McVeigh spearheaded the funding applications on behalf of both villages. Under the Parish Partnership Scheme, Norfolk County Council provide half of the funds required for a particular project, the remaining half being raised within the villages from community fund-raising projects.
Ian Kinghorn, Chairman of Burgh and Tuttington Parish Council said "The Parish Council has been considering traffic calming measures in both Tuttington and Burgh, and late last year applied for a Parish Partnership grant for the installation of village gateways on the entrance to each village. I am really pleased that our application has been successful, and we now need to face the challenge of raising funds for our half of the total".