You might or might not be aware that the north Norfolk coast is the location of a major commercial air corridor. Aircraft from both long haul and more local departure and destination points use the corridor. During 'normal' times, a casual glance into the sky either above, or just north of Tuttington would show the presence of one or more aircraft flying at 30,000 feet and more. It would have been unusual for the sky to have been empty of aircraft.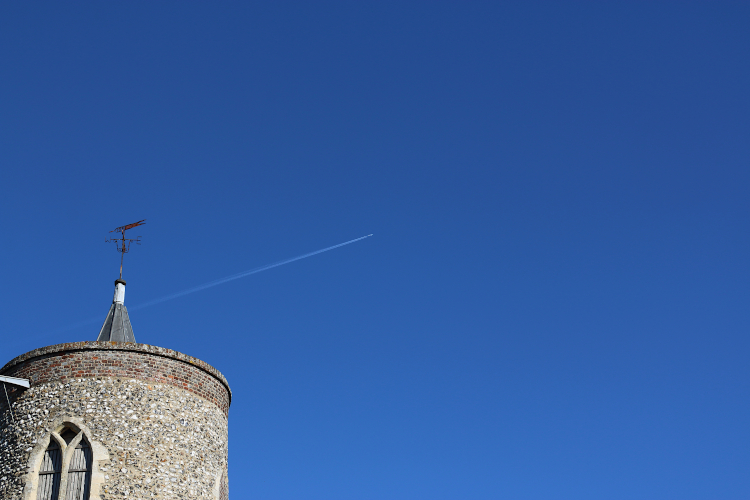 But not now in these days of the Coronavirus and its accompanying quarantining rules putting a stop to foreign travel for many if not most people. There are some aircraft to be spied above, but they are fewer and further between – and probably mostly carrying freight not passengers.
The photos here show a couple of aircraft. One is an Airbus A321-271NX travelling at 397 knots at an altitude of 37,000 feet, just above Trunch but still clearly visible from Tuttington. It is Wizz Air flight W62226 flying from Edinburgh to Budapest in Hungary.
The second aircraft was photographed from Tuttington and was located half a mile or so off the coast at Overstrand. This plane had come a long way from Lima in Peru nearing its destination at Schiphol airport in Amsterdam. It is a Boeing 777-306(ER) KLM flight KL744 at an altitude of 36,610 feet, travelling at 437 knots.
As it happens, both of the above flights normally carry passengers. But for the time being, we in Tuttington are likely to see fewer passenger-carrying aircraft than before. One of the many changes to our lives that Covid-19 has brought to us – some of which are likely to be here for the foreseeable.
For the technically-minded, aircraft navigate between specific locations called waypoints. The waypoint on the north Norfolk coast is called DOLAS (lat. 52.97861, long 1.00083) and it's on Blakeney Point.