Everyone felt a bit hemmed in by Covid again this Christmas but this didn't stop events from happening nor did it dampen spirits. We are all getting used to joining in but being cautious at the same time.
More than 20 hardy souls turned up to sing carols around the Tuttington Christmas tree on the Village Green. A jolly time was had by all helped along by consumption of copious mince pies and Joe and Jan's secret recipe mulled wine. Someone must have been watching over them as their efforts were amply rewarded when they won the Christmas hamper raffle!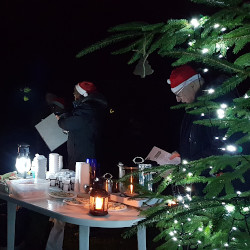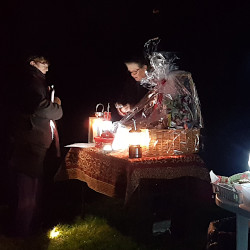 A collection held at the Carols on the Green event also raised the sum of £93.52 towards the Norfolk and Norwich Hospital neonatal intensive care unit (NICU). Thanks go to all who took part.
The crib service at Tuttington church held on Christmas Eve was good fun with lots of families enjoying Christmas songs. Activities included a game and a film show before the children brought forward the figures to build the crib. This got a bit chaotic when no one could find Joseph because he had arrived early as the inn keeper leaving poor Mary in the lurch! The service ended with Away in a Manger by candlelight.