The Tuttington Christmas weekend held this year at the village church on the 27th and 28th November was a great success despite the wet and windy weather. The church was bedecked with seasonal greenery for the event and children found it especially atmospheric as dusk approached and the lights came up.
Lots of families enjoyed having a go at making Christmas crafts and meeting up with friends for a cuppa, a cake and a chat. Several stalls displayed a variety of locally made handicrafts which generated lots of interest. Particularly popular were the seasonal wreaths made by the volunteers who organised the event. More than 20 wreaths were sold and most of those went on the first day.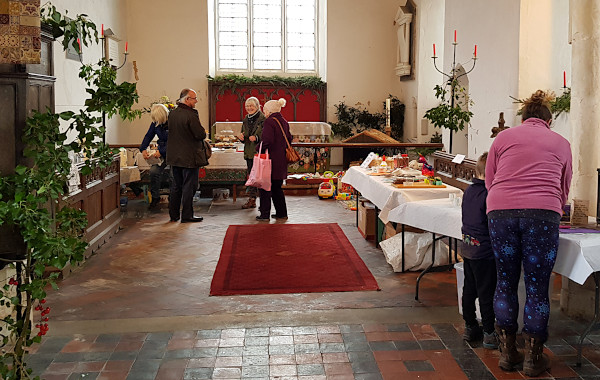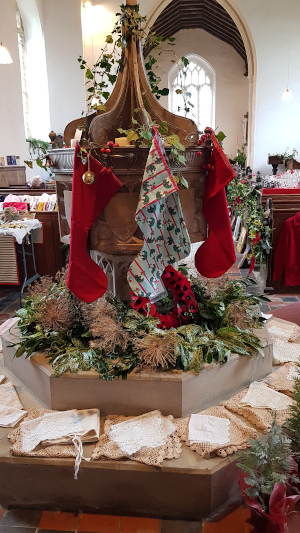 Over the weekend, an amazing total of £630 was collected towards the annual running costs of the church building. Tuttington church is used both for services and for wider village events.
But Christmas fun is not yet over! Another event is the raffle for the Christmas hamper which was on display in the church over the weekend. Raffle tickets (£1 each) will be available at the Christmas Carols around the Tree on the Village Green on Wednesday 15th December from 6:30pm. The Draw for the raffle will be held after the Carols. Donations collected on the Village Green will be donated to the Norfolk and Norwich Hospital Neonatal Intensive Care Unit.
Please remember to put your homemade snowflakes made from recycled items on the Village Christmas Tree. And everyone is welcome to come along to the traditional Crib service for all the family at Tuttington Church on Christmas Eve starting at 4:00pm.
Thanks go to everyone contributing to the various Tuttington Christmas events but especially to organisers Jan, Jane, Ruth and June. Happy Christmas everyone!