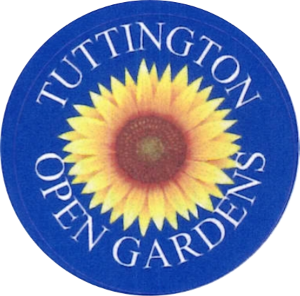 In June, Tuttington opened its collective garden gate to the wider public to celebrate its biennial Open Gardens event. It was a very warm and sunny day – unlike the month of July that followed – and at least 250 visitors braved the steamy temperatures to wander about the village.
The main car park in Lower Farm (with thanks to Kit Papworth) had at least 100 vehicles at the peak and the initial stroll into the village did not deter the garden enthusiasts.
There were large gardens and small, exotic and traditional, immaculately tidy spreads and – er – one more wild garden clearly attempting to cultivate that almost extinct plant, the stinging nettle. So much variety in garden character in such a small community. The inside of the church was also bedecked with flower arrangements in a floral festival.
The high point for many of the visitors was the amazing selection of goodies in the refreshment garden at the Old Forge. Many visitors lingered under a shady tree or canopy to enjoy a traditional British afternoon tea.
The event was organised by the Tutts Group in the village but the contributors who made the whole event such a success are too numerous to mention. Thanks go to everyone who contributed in major and minor ways towards this community event.
In spite of the very reasonably priced entry fee and refreshments, a total of £1300 was collected on the day. Of this, £975 will go towards the running costs of the church building, and the remaining £325 will go to YANA (Your Are Not Alone) – the Rural Mental Health Support charity.