Some of the more eagle-eyed amongst you might have noticed the new erections lurking in the grass on the outskirts of the village. Yes indeed, they are village nameplates attached to oak-effect gateway frames. These long-awaited boundary markers – although they don't actually mark any official boundary – have been the dream of our Councillors in the Burgh and Tuttington Parish Council since almost forgotten time. The gateways should not only identify our village to visitors but also enhance our sense of community, including those who live outside of the markers. However, their main purpose is to remind drivers they are entering a place where people live and that they should moderate their speed.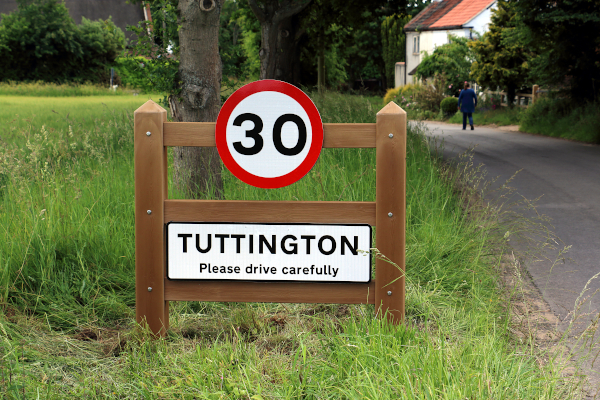 The nameplate gateways on the Aylsham and Banningham Roads, respectively, have 30 mph limit signs incorporated into them which makes the structures larger so the nameplates seem in proportion. Not so the sign on the Norwich Road, arguably the 'main' entrance into the village. This sign does not have a 30 mph limit roundel, so it is smaller and the long name of our village is seemingly reduced to a size more appropriate for the Borrowers.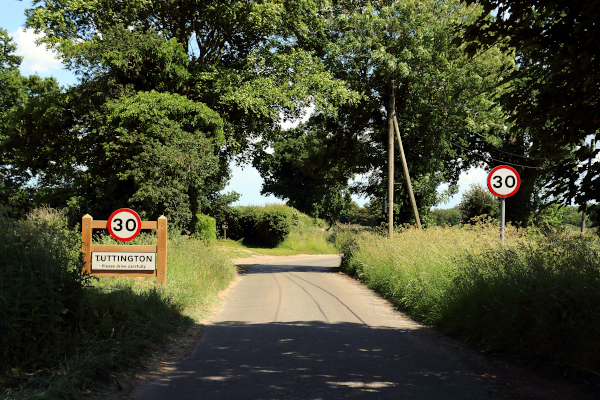 So, why no 30 mph sign on the Norwich Road gateway? It's all about the location of the existing 30 mph signs relative to the junction with Beck Lane. The gateway does not fit on the verge to the north of the junction so it had to be sited to the south. The 30 mph signs could not be moved south of the junction on the Norwich Road as that would require an additional pair of speed limits in Beck Lane at some exorbitant cost. That still leaves Beck Lane without a nameplate sign (available funding did not permit that) so the unwary visitor could enter the confines of Tuttington from the Skeyton direction without realizing it!
Our neighbours in Burgh – who were first to raise the question of village gateways – will have their own sets. They have opted for a pair of white gateways at each village entrance. From seeing well-established signs in other villages, Tuttington Councillors were concerned that white gateways would quickly get soiled from traffic and look shoddy, so they went for the oak signs instead. They also opted for one rather than two gates as this configuration was believed to be more welcoming and less like a gated community.

The gateways were paid for from a 50% grant won by the Parish Council from the Parish Partnership scheme operated by Norfolk County Council. The other 50% of funds were kindly provided by our County Councillor David Harrison from his discretionary fund.