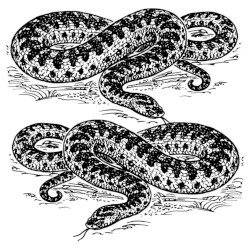 Who would believe it? Those quiet and decent folk of Banningham have a dark and secret past. It turns out that a scary means of summary justice might just have been practised in this quiet and unassuming Norfolk village that lies just a mile from Tuttington.
According to legend and a recent article in the EDP, Richard Cromwell, son of Lord Protector and regicide Oliver Cromwell, being a Godfearing Puritan decided that the good men of Banningham needed protection from their wayward women. So he came up with a novel means to test their morals: a snake pit!
Seventeenth century East Anglia was rife with witches, according to Witchfinder General Matthew Hopkins, and he used a variety of brutal methods to identify the supposedly guilty. Most of these methods resulted in the death of the accused whether guilty or innocent. This is exemplified by the ducking stool on Fye Bridge in Norwich to which suspect witches, scold, strumpets and otherwise disorderly women were attached. Following a dunking in the river Wensum, those that survived were deemed guilty through witches guile and burned at the stake; those that didn't were presumed innocent – but by then of course it was too late.
The Banningham snake pit seemed to have operated under a similar principle but the other way around. Apparently, men were asked to identify women with suspect morals or conduct who were to be put to the test. Folklore says that the snake pit located on Banningham village green was 14 feet deep and contained 10 venomous snakes. Suspects were sent in and those emerging unharmed were deemed innocent, perhaps being protected by the Almighty; those that didn't were guilty. Who knows how many came out unharmed. Probably, not many. This is contrary to the logic of the ducking stool and other torturous tests and shows that the whole process was really about something else altogether, seemingly a misogynistic desire to control women.
Whether or not the pit contained our indigenous British adder (Vipera berus) which is relatively harmless or more poisonous imported snakes – like the truth of the story itself – is not clear.
So remember, those of you who stray out of Ye Olde Banningham Crowne late at night after imbibing a few too many tankards or porter, take care not to wander too close to the village green lest you get swallowed up by an old snake pit!