The community of Tuttington gathered together on Sunday 5th June to celebrate the Queen's Platinum Jubilee at the Big Lunch, along with thousands of street parties across the Nation. In spite of the inclement weather and a last-minute change of venue, more than seventy villagers, ranging in age from 8 months to over 80 years, joined in the fun. This was one of the largest social gatherings seen in Tuttington in recent years, thanks in part to the receding pandemic. They came from as far afield as Heath Lane, Thieves' Lane, Common Lane and Beck Lane – and the rain did not dampen their spirits.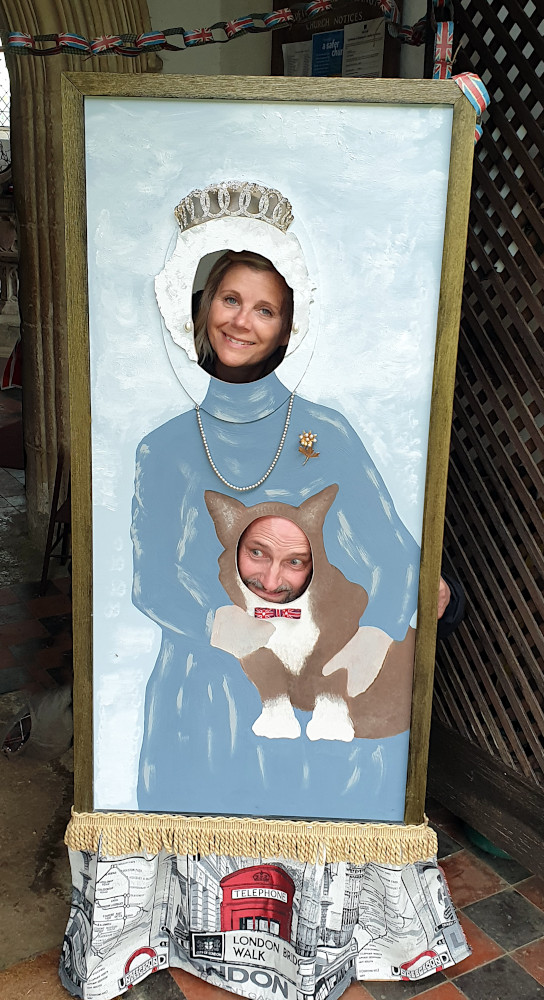 Tuttington church was the changed venue hosting the event when the weather forecast had been looking grim with the prospect of the Village Green becoming a mire. The church and churchyard were hastily bedecked with bunting, and marquees were erected for the games and Barby. Everyone agreed that the games in the marquee were particularly good. Not only did the younger competitors enjoy Bobbing-for-Ducks and Tin Pan Alley but their parents were just as keen to Splat-the-Rat or collapse the Mega-Jenga.
Inside, the lunch began with all manner of traditional British picnic fare. And, there seemed to be lots of cakes to sample. It was also an opportunity to welcome several new faces including the recently-appointed vicar of Kings Beck, Rev David Chamberlin.
The picnic hubbub began to subside as the much anticipated live entertainment set up their equipment. After a few words of introduction and thanks from one of the organisers David Brett, the Johnny Jump Band started their set. First up was 'In the Summer Time', that old favourite from Mungo Jerry, an ex member of which is part of the Johnny Jump Band line-up. The band played for an hour with much singing along and hand-clapping from the audience. 
After a break, the Band struck up again, eventually enticing the partying villagers to get up and boogie (ed: should that be get down and boogie?). It was a great climax to a fantastic event. There is no doubt that the band enjoyed the party too and this added to the atmosphere of the occasion. But, all good things must come to an end and as the last echoes from the band faded around the hallowed halls of Tuttington church, the tired but happy revellers from the mosh pit wended their weary ways back home…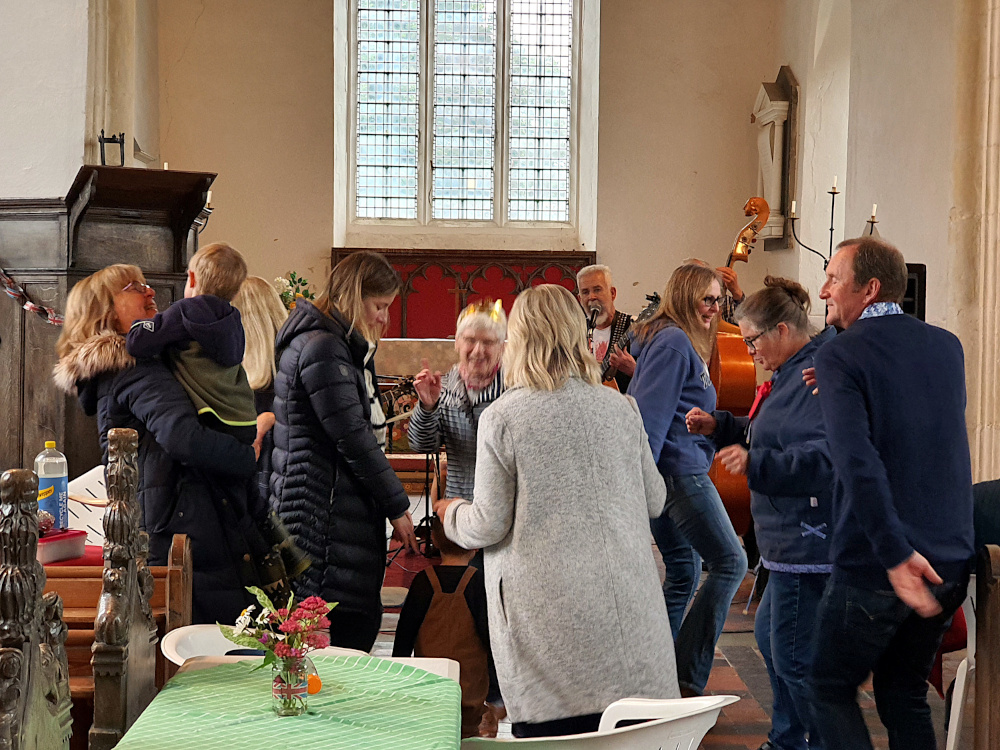 It is traditional to thank the organisers of such events but everyone who came along made their own contribution which is fitting for such a special occasion.