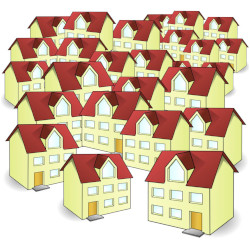 You wouldn't be blamed for thinking Tuttington is becoming 'piggy-in-the-middle' as major housing developments are being planned both to our west and to our east.
First, there's the new housing estates allocated to various field sites between the eastern fringes of Aylsham and the A140. At the last count, some 550 additional houses have been earmarked for this part of Aylsham under the Greater Norwich Local Plan. But, there are still further green-field sites available on this side of our nearest town and could come into the local Authority's sights if more pressure is applied by ever changing government planning policy.
Now, on our other flank, there is a proposal to increase the size of North Walsham by up to a third. The plan would be to expand the town on its western edge (our side) with an additional 1800 houses together with associated services and a new link between the A149 Norwich and Cromer roads. The full details of the development can be seen by following this link.
Is this good for Tuttington, or ill? Well, there are probably more reasons to be cheerful than not. There is no doubt that a housing shortage exists nationally. Everyone has the right to a home and Norfolk has to provide its fair share of accommodation for its residents. Houses and people need services: schools, doctors, roads, utilities and shops, amongst other things. Improvements to both Aylsham and North Walsham by providing better services and communications, and bringing more shops and businesses, making lively centres as focal points for the arts and entertainment, will all benefit the satellite villages like ours as well.
But not all expansion is good and filling in available sites around Norfolk's rural and characterful towns risks converting them into dormitories for Norwich where just increasing the number of houses is the main goal. This has already happened in some Norfolk towns where their essential character is becoming swallowed up by the ever increasing demand for more building. Towns like Aylsham which act as focal points for tourism in north Norfolk would suffer if this happened.
Does this mean places such as Tuttington and its neighbouring villages are also under threat of expansion just to meet the government's housing targets? Probably not, at least for now. Making small villages into larger ones is generally a very costly exercise because existing roads and services would require major upgrades. Continued expansion of Aylsham in our direction is also less likely because the river Bure and its water meadows, as well as the A140, act as natural boundaries. But it would be unwise to say it could never happen.
So for the time being, let's enjoy our rural idyll and hope our two neighbouring towns make the most of their planned expansions for the benefit of their residents and neighbours whilst retaining their character and that of nearby villages like ours.