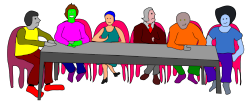 There will be two annual village gatherings in Tuttington church on the evening of Wednesday 10th May 2023. They will involve both of the villages in our parish: Burgh-next-Aylsham and Tuttington.
The first is the annual village or parish meeting being hosted by the Parish Council. This provides an opportunity for the whole civil parish to get together as a community and discuss any local matters of interest or concern. These might take the form of reports by village groups or organising committees on their events during the past year and plans for the coming year. There is no set format for the meeting and anyone can make a comment or open a discussion.
The second meeting which residents are welcome to stay on for – or not as they wish – is the annual Parish Council Meeting. The format of this meeting is much like a regular Parish Council meeting. In addition to the usual business, including another period open to residents to have their say, there will be elections of the Chair and Vice-Chair, and the Parish Clerk will presents the annual finance report.
Everyone in the parish is welcome to attend either or both meetings starting at 7:30 pm in Tuttington church.